Glen Manor Vineyards is located in Virginia approximately 70 miles west of Washington D.C., situated on a western flank of the Blue Ridge Mountains. The surrounding mountains, ranging between 1400 and 3400 feet in elevation, form a Glen which gives the vineyards a unique environment: A world of its own. The vines grow high on very steep mountain slopes characterized by deep, well-draining, and rocky soils. We employ a permanent cover crop between the rows and under the vines to aid in controlling the vines summertime growth and to increase the biodiversity of the vineyard.
The original six-acre vineyard was established in 1995. Over time, we have added new plantings on our mountainside bringing our total acreage under vine to 17. Learn more about our estate's history →
Grade & Elevation
Blessed by our steep mountain slopes and high elevation, we are able to produce wines of concentration and precision. High elevation allows for a slow, steady ripening of the fruit and balance of the canopy. Steep grades allow for water to flow away from the vines, encouraging the plants to focus their energy into fruit production rather than rapid vine growth.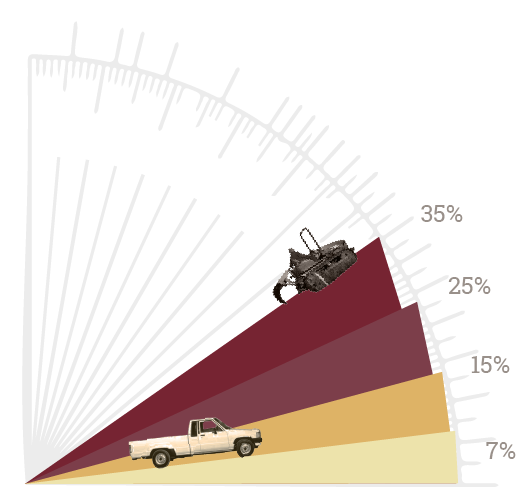 Our slopes range from 7% to 35%. Elevation of the vineyards is between 1000-1400 feet above sea level.
---
Soils
Our mountainside is rich and poor: rich in its variety of soil types; poor in that the soils are rocky and well-draining. This combination is ideal for winegrowing. The variety of soil types teaches us how each grape variety grows in different soils, allowing for more balance and choices in the short term and allowing for more informed decisions for replanting and the generations to come. The rocky and well-draining nature of the soils allows for the plants to bring their energy to fruit production and concentration, rather than vine-growth and water-retention in the berries.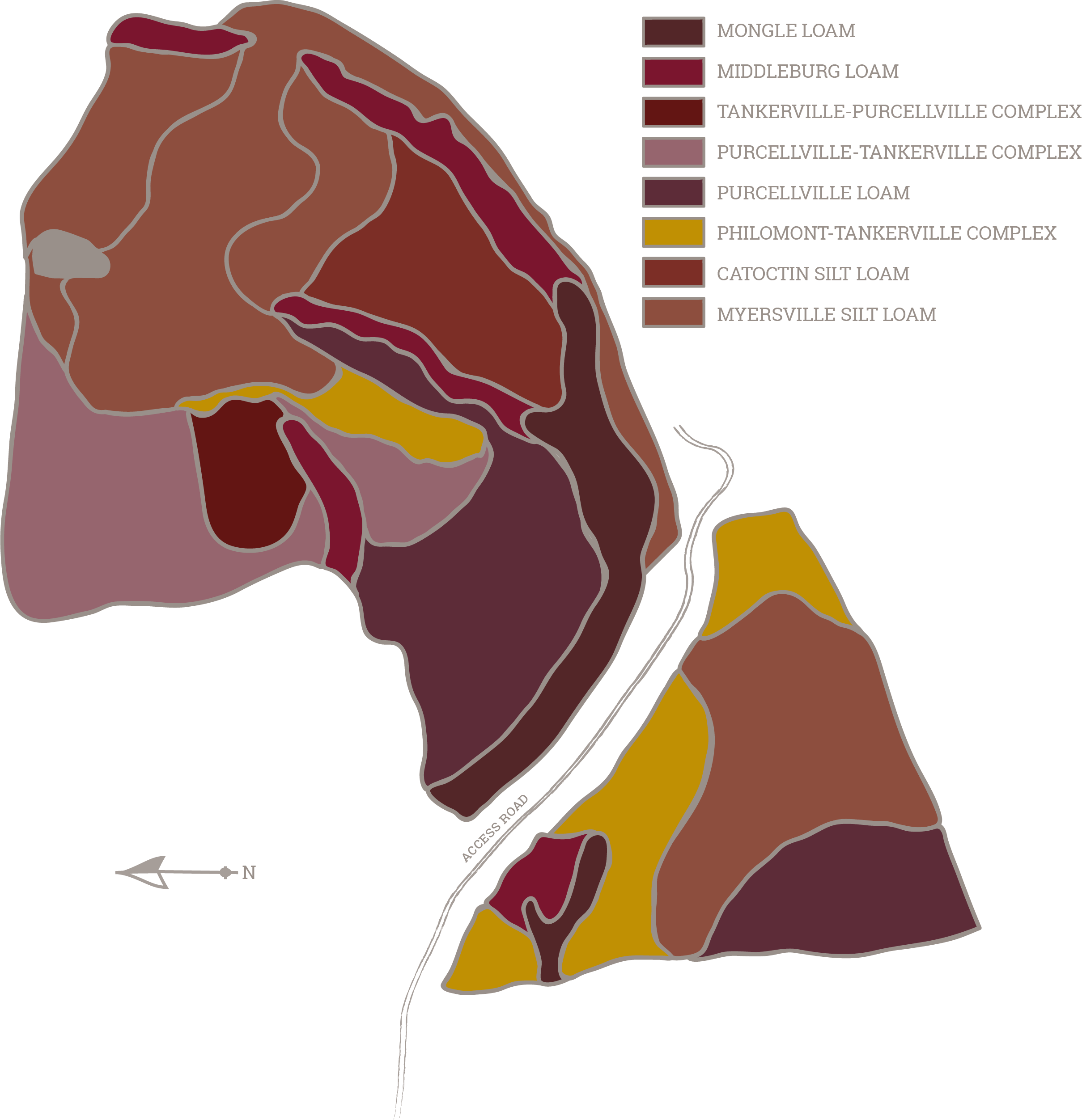 ---
Varietals
Influenced by the variability of our Virginia climate, both in terms of erratic rainfall and quick temperature shifts, we look to Bordeaux as an initial example in how we structure our varietal choices and wines. With this template, we grow Sauvignon Blanc, and four of the Bordeaux red varieties: Cabernet Sauvignon, Merlot, Cabernet Franc, and Petit Verdot. From there, we step beyond the Bordeaux model and adapt to our specific mountainside. Drawing inspiration from other mountainous grape-growing regions, we add Petit Manseng and (more recently) Nebbiolo to our farm. The wines made from these grapes →
---
Training
Open Lyre
Most of the older vines on the farm are trained to an Open Lyre system. Advantages of this system are not only an open canopy (containing less moisture) but also results in less shading of the fruit. In this system, the trunk is divided into two cordons, which are grown along the two parallel wires, producing a lyre shape when the row of vines is viewed end-on. Although this system can be spur pruned, we chose to cane prune to balance the plant's vigor.
Double Guyot
In Double Guyot, each vine has two canes and two spurs, the canes being trained in opposite directions along wires. As we have increased our vineyards, we have trained the newer vines on the property to the Double Guyot system to allow for more competition from the neighboring vines, and to maximize the vineyard spacing. We also allow two trucks as insurance agains winter injury.